Autumn schools: 10 must-see campuses for fall fanatics
by Aimee Hosler | October 11, 2012
A crisp sunrise. A cozy sweater. Leaves crunching beneath your feet. Fall may be a time for transitions, seasonally speaking, but also one for traditions, both personal and historic. Nowhere is this more apparent than on a scenic campus saturated with the rich colors of autumn. Factor in the excitement of a new semester, holiday-themed events, and -- of course -- football, and you have the makings of a phenomenal college experience. Don't take our word for it -- live it at one of these 10 fall-worthy schools.
While parents, potential students and curious visitors can get a sense for a school's culture any time of the year, fall -- and the excitement it brings -- is not to be missed. If you want to see autumn collegiate-style, check out these campuses. However, this list is by no means exhaustive; in fact, an abundance of colleges offer remarkable fall spectacles. Do some research, pack up your car and make a road trip of it; it could be the experience of a lifetime.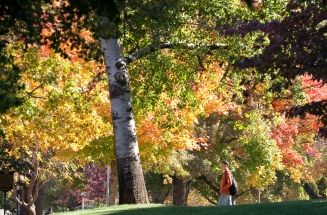 Photo Courtesy of University Relations, University of Arkansas
About the Author
Aimee Hosler is a writer and mother of two living in Virginia. She specializes in a number of topics, but is particularly passionate about education and workplace news and trends. She holds a B.S. in Journalism from California Polytechnic State University in San Luis Obispo.