Changing Careers: 20 Smart Moves for 2015
Thinking about changing careers? You're not alone. In fact, research from the Bureau of Labor Statistics (BLS) shows that Americans between the ages of 18 and 46 change jobs between 10 and 15 times on average during that period in their lives. There are a multitude of reasons why people choose to make a move, from unhappiness to desiring a fresh start, the need for upward mobility or simply a change of pace.
Whatever the reason, it's important to remember that while you can always develop new skills, you can't change who you are. That's why it's vital to select a career path that will suit your personality, fulfill your professional needs and, hopefully, provide financial stability.
Remember that no change is too small — or too big. Consider actor Ken Jeong of The Hangover movie trilogy. He was a successful physician, practicing internal medicine, before he jumped into stand-up comedy and acting full time. His fame is built on his talent, but it never would have happened if he hadn't taken that first step. When it comes to changing careers well, it's all about having a smart strategy and taking the right steps to make your move.
> Be sure to check out Changing Careers in 2016 for new career match-ups
Methodology
Using data from the BLS, Schools.com created a list of target careers, which are aspirational jobs that meet specific requirements in the following areas:
Mean annual salary above the national average
Projected job growth, 2012-22, above the national average
More than 1,000 projected job openings from growth & replacement needs, 2012-22
Typical education required for entry-level positions is a bachelor's, master's or doctor/professional degree
No required work experience in a related occupation
We then created a 4-point weighted compatibility scale based on criteria from the Occupational Information Network, including:
Each career's primary interest and secondary interest, which refers to employees' personality preferences for their work environment and the type of tasks they do
Each career's primary and secondary areas of knowledge, which refers to the principles and facts employees need to know to do their jobs
Using the compatibility metric, we matched starter jobs, which have annual salaries below the national average and require less than a college degree, with their corresponding target careers.
The results? Twenty recommendations for great career moves, from low-paying, low-education jobs into stable, growing careers at a higher pay grade.
1. Emergency Medical Technician → Nurse Practitioner
Emergency medical technicians and paramedics are first-line medical responders, providing patient care to individuals during medical emergencies. Working in a variety of health care settings, nurse practitioners are advanced medical professionals, trained to diagnose and treat illnesses, prescribe medications and order diagnostic tests.
COMPATIBILITY: 3 out of 4
The professional traits of an EMT or paramedic closely mirror those of a nurse practitioner: They desire to help others and are critical thinkers, able to investigate and solve problems. Both share medicine as a common knowledge area, and the experience gained treating and caring for patients as an EMT creates a solid foundation for a potential career change into nursing.
HOW: Bachelor's degree, master's degree, certifications and licensing
Earn registered nurse (RN) credentials, which can be accomplished via an associate or bachelor's degree program in nursing
Complete a master's degree program in nursing
Pass required national certification examinations, such as NCLEX-RN
Successfully meet your state board of nursing requirements
WHY: Career growth and upward salary mobility
Health care is one of the largest and fastest-growing occupational fields in the country, and nursing school in particular can be a good career move: Advanced practice registered nurses (APRNs) are expected to see career growth greater than 33 percent nationally between 2012 and 2022. Nurse practitioners are also among the highest-paid nursing groups in the country, earning an average yearly wage of approximately $95,000 in 2013.
---
2. Addiction Counselor → Guidance Counselor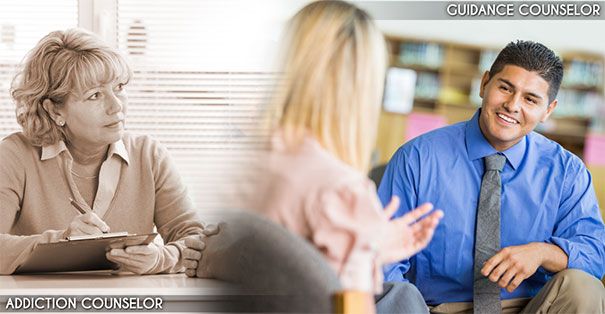 Addiction counselors support individuals as they deal with and recover from issues stemming from substance abuse. Guidance counselors assist students to succeed both in school and in their future careers.
COMPATIBILITY: 4 out of 4
The type of help counselors give is the only thing that seems to separate substance abuse counseling from educational counseling. Both professions are built upon knowledge of psychology, therapy and counseling, and individuals working in these fields are outwardly focused and enjoy helping make a difference in the lives of others. Working with those struggling with substance abuse issues provides counselors with a solid starting point for making the leap to working with youth and parents in educational settings.
HOW: Bachelor's degree, master's degree, certifications and licensing
Complete a bachelor's degree in counseling, education or related field
Complete a master's degree program in counseling, school counseling or related areas
Meet state-level educational licensing requirements
Meet state-level counseling requirements as outlined by the National Board for Certified Counselors
WHY: Size of job market and increased salary
Although these counseling fields are closely related, educational guidance counselors have larger employment opportunities, with 87,000 new openings expected to occur nationally between 2012 and 2022. In addition, educational guidance counselors out-earn their counterparts by nearly $15,000 annually, garnering an average national salary of $56,160 versus $41,090 for addiction counselors.
---
3. Traffic Technician → Civil Engineer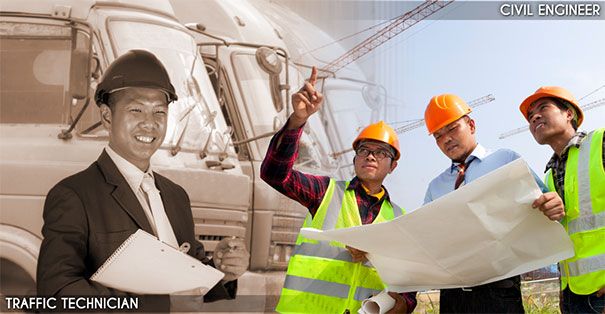 Traffic technicians, also known as transportation planning technicians, work with traffic engineers to review how various factors, from traffic volume to accident rates, affect driving conditions. Civil engineers are responsible for designing and planning the construction of structures such as bridges, highways, runways, dams and more.
COMPATIBILITY: 3.5 out of 4
Below the surface, these two occupations are intertwined, sharing the same core behavioral and interest traits. Individuals in these jobs like working outdoors and dealing with real-world problems, and they are also investigative thinkers who are knowledgeable in both engineering and technology. Transportation planning techs thinking about a change may not have realized they've already built a skill set that translates into new opportunities within engineering.
HOW: Master's degree, certifications and licensing
Complete a bachelor's degree in civil engineering
Successfully pass the Fundamentals of Engineering (FE) Examination
Complete experience work requirements as a Civil Engineering Intern (CE) or Engineering-in-Training (EIT)
Meet and complete state-level examination and work requirements to earn a license to work as a civil engineering professional
For advancement, meet eligibility requirements and pass the Principles and Practice of Engineering examination to earn Professional Engineering (PE) designation
WHY: Career opportunities and salary increase
Transitioning to a career as a civil engineer should be worth the investment. Employment opportunities are projected to be available nationally as the civil engineering occupation is expected to grow by just under 20 percent between 2012 and 2022. If job growth isn't enough, then an average salary above $85,600 in 2013 should be appealing.
Explore degrees in civil engineering
---
4. Psychiatric Aide → Clinical Social Worker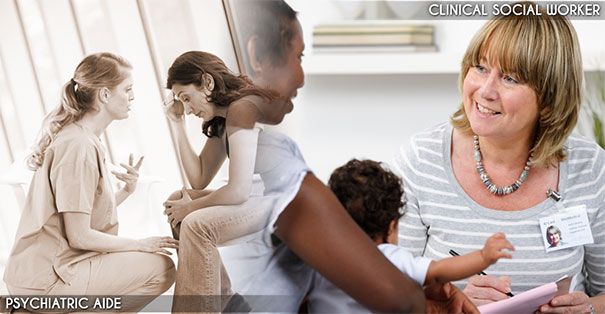 Psychiatric aides traditionally work under the supervision of psychiatric nurses or treating physicians, helping individuals who are dealing with mental impairment or emotional disorders. Clinical social workers, also known as health care social workers, provide psychological and social support to individuals and their families dealing with chronic or, in some cases, terminal illnesses.
COMPATIBILITY: 2.8 out of 4
Although the overall compatibility scores are slightly lower than other matches on this list, the transitional path between psychiatric aide and a social worker in health care still aligns well. First and foremost, individuals in both career paths are comfortable working with others and enjoy providing services to those struggling with psychological, social or behavioral issues. As practical thinkers, psychiatric aides should have little trouble developing the sociology and psychology knowledge needed in the social work field.
HOW: Bachelor's degree, master's degree, certifications and licensing
Complete a bachelor's degree in social work or a related field
Complete a master's degree in social work
Complete post-graduate supervised clinical experience work (typically 3,000 hours)
Successfully pass clinical examination
Meet state-level licensing requirements sponsored by the Association of Social Work Boards
WHY: Employment opportunities
Social work is a quickly growing occupation, pegged to create 70,200 openings nationally between 2012 and 2022, an increase of nearly 27 percent. On top of excellent job projections, the field also pays well, averaging more than $52,000 a year nationally. Those numbers should be attractive if you're ready to make a change and are tired of the $26,990 average salary psychiatric aides earned in 2013.
Explore degrees in social work
---
5. Environmental Science Technician → Biochemist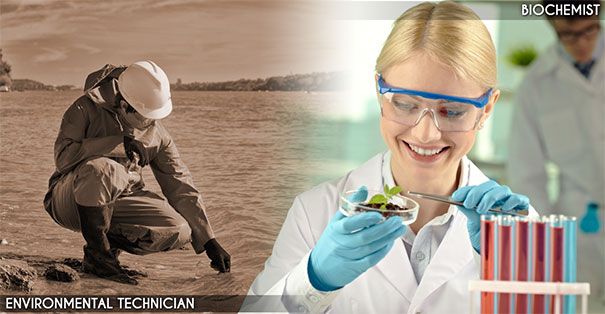 Working with and under the supervision of an environmental scientist or engineer, environmental science technicians perform a variety of laboratory and in-the-field tests to study issues such as pollution and water safety. Biochemists are scientists tasked with conducting research into living cells and organisms, specializing in an array of areas from the impact of diet to reproduction problems.
COMPATIBILITY: 3.5 out of 4
On the surface, these two careers may seem dissimilar — different fields of study and a different scientific focus. But it is that drive to investigate that brings these jobs together. Both share the same primary behavioral trait: investigative thinking powered by a desire to search for facts, to figure out and solve problems. The experience gained working under the supervision of another scientist and the hands-on scientific work conducted as a technician are the proving grounds for a future biochemist.
HOW: Bachelor's degree, master's degree, doctoral degree
Complete a bachelor's degree program in science or a related field
Complete a master's degree of science, chemistry or biochemistry
Complete a doctoral program of study in biochemistry or related field
WHY: Salary potential and tenure-track opportunities
In 2013, biochemists earned a national average salary of slightly more than $91,600, while environmental technicians earned nearly $44,000. Although increasing salary potential by 108 percent could mean an excellent return on an educational investment, biochemists also enjoy possible tenure track positions in academia at institutions of higher education. Doing something you love, conducting research and a job for life? Not a bad decision.
---
6. Retail Store Manager→ Personal Financial Adviser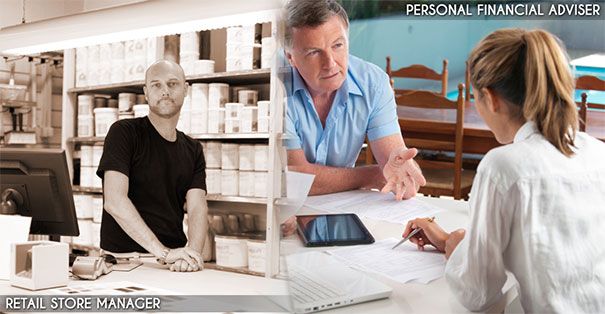 Employed across a spectrum of stores, from Nordstrom to Macy's, Costco to Wal-Mart, are retail store managers, responsible for supervising retail sales associates and handling a multitude of other responsibilities, from inventory management to dealing with customers. Financial advisers provide financial services and assistance to clients, from tax tips to insurance recommendations, investment portfolio opportunities and monitoring retirement contributions.
COMPATIBILITY: 3.5 out of 4
On the compatibility front, retail supervisors and financial advisers are not that dissimilar, as they share a common behavioral profile, including a desire to follow standards and regulations, the ability to lead and make decisions, and knowledge of how to successfully provide service to others. The management and organizational skill set developed in retail can build the foundation to a potential career switch to finance.
HOW: Bachelor's degree, licenses, work experience and certification
Complete a bachelor's degree program in an area such as finance, business, economics, or mathematics
Finish licensing requirements to work in specific financial areas, including bonds or stocks
Consider pursuing advanced designations such as Certified Financial Planner (CFP)
WHY: Employment and career earning potential
Money is hot, and working in finance is even hotter. National employment growth is projected to reach 27 percent for financial advisers between 2012 and 2022, making it one of the fastest-growing careers in the country. Coupled with annual average earnings of just under $100,000, making the investment into financial advising just makes sense.
---
7. Food Service Manager → Health Care Administrator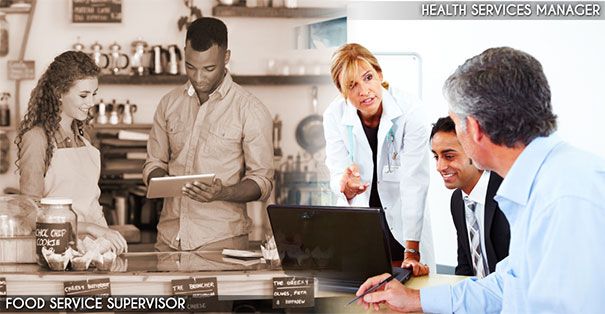 Working in restaurants and other food serving establishments, food service managers direct staff, manage food costs and inventory, coordinate food preparation and more. Health care administrators work in a range of settings, and they are responsible for directing and coordinating patient care and the delivery of health services.
COMPATIBILITY: 4 out of 4
Broadly, both careers share primary skill and interest sets, focused on administration, customer service, and leadership. The management, analytical and organizational skills required of food services managers translate well to a potential career change to health care administration.
HOW: Bachelor's degree, licensing and certification
Complete a bachelor's degree program in areas such as health administration, public administration or business
Complete state-level licensing exams as required
Depending on professional goals, complete certification programs to earn designations such as Certified Nursing Home Administrator
WHY: Job opportunities and 3X salary potential
Health care is a bastion of employment growth, evidenced by the projected 23.2 percent national career growth for health care administrators between 2012 and 2022. Food service managers can potentially trade their below-average earnings for six-figure incomes: In 2013, health care administrators in the U.S. earned more than $101,000 annually, dwarfing the nearly $32,000 earned by restaurant managers.
Explore health administration degree programs
---
8. Desktop Publisher → Architect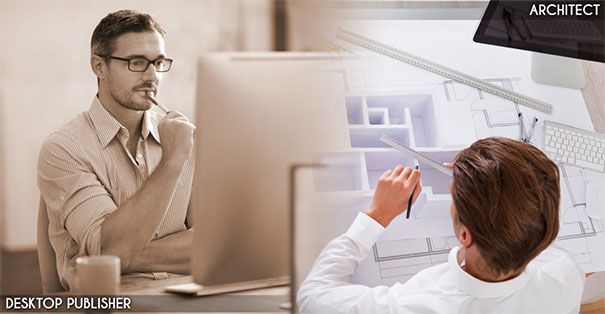 Desktop publishers use a variety of computer software programs to craft page layouts for both print and online publications such as websites, newspapers, brochures, print ads, books and more. Architects use computer-aided design and drafting software design the plans for structures such as office buildings, houses and more.
COMPATIBILITY: 3 out of 4
On the surface, these two careers might seem to exist in separate galaxies. But a deeper examination reveals the artistic, design-focused traits of desktop publishers translate well into a potential career as an architect. Individuals in both fields work with layouts and patterns, using critical thinking to solve problems. The design skills gained as a desktop publisher set the foundation to build a new path to a career as an architect.
HOW: Bachelor's degree, work experience, certification and licensing
Complete a bachelor's degree in architecture
Complete approved internship, which can last at least three years
Successfully complete the Architect Registration Exam
Meet state-level licensing requirements
Consider earning voluntary certification from National Council of Architectural Registration Boards (NCARB)
WHY: Career opportunities
Desktop publishers are facing declining employment numbers. On the other hand, architects are enjoying a career surge, with national career growth expected to reach 17.3 percent nationally between 2012 and 2022. That's more than 44,000 job openings, which should be welcome news to those choosing to pursue a career as an architect. On the salary front, architects significantly out-earned desktop publishers in 2013 by nearly 2-to-1 ($79,650 to $41,130).
Explore degrees in architecture
---
9. Retail Sales Clerk → Fundraiser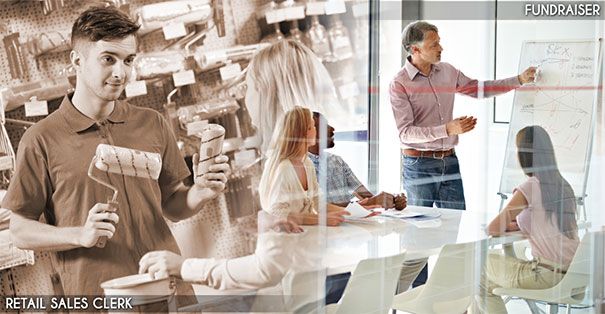 Retail sales workers are tasked with selling consumers a wide spectrum of merchandise from cars to clothing, furniture to computers. Fundraisers research prospects and organize campaigns to solicit donations or raise money for organizations or individuals, such as nonprofits or political candidates.
COMPATIBILITY: 3.5 out of 4
The compatibility between these two fields is nearly 100 percent. Selling a winter's jacket to a harried customer probably makes soliciting a six-figure donation from a local philanthropist seem simple. The customer service orientation of retail work, coupled with a business and marketing focus, position those in retail occupations for success as future careers as fundraisers.
HOW: Bachelor's degree, certification
Complete a bachelor's degree program of study in business, journalism, public relations, business or related fields
Pursue the voluntary Certified Fund Raising Executive certification from CFRE International
WHY: 2x career growth and potential career earnings
Fundraising is a happy, healthy industry that is expected to grow by 17.3 percent nationally between 2012 and 2022, presenting plenty of opportunities for those thinking about a change of pace. Part of that happiness is the $56,270 average salary fundraisers earned in 2013, which far outpaced the $25,370 retail associates took home.
---
10. Audiovisual Technician → Cartographer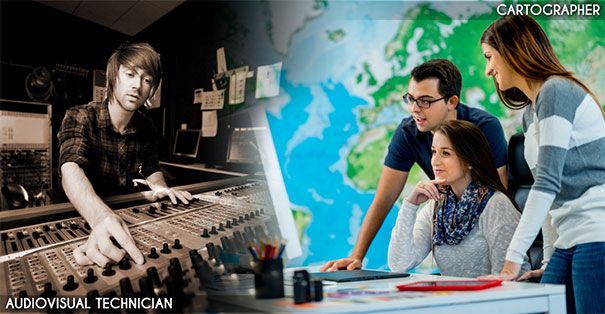 Audiovisual technicians set up and operate AV equipment such as speakers, projectors, cables and mixing boards for various events, like meetings, concerts or press conferences. Cartographers use geographic information to design and create maps of the Earth's surface for a range of uses.
COMPATIBILITY: 3 out of 4
It might seem like a wide gulf exists between these two fields, but that isn't the case. AV technicians are well-positioned to switch to careers as cartographers based on their experience working with a variety of recording and electronic equipment and, more important, in their planning and design of the set-up of that equipment. Basically speaking, cartographers do the same thing — except with fancier technology, such as light-imaging detection and ranging technology (LIDAR). Individuals in both fields are hands-on problem solvers, investigative and critical thinkers who are skilled at working with computers and electronics.
HOW: Bachelor's degree, certifications
Complete a bachelor's degree in geography, surveying, cartography or geomatics
Meet any state-level licensing requirements
Pursue voluntary certification from organizations such as the American Society for Photogrammetry and Remote Sensing (ASPRS)
WHY: Career earning potential
Overall, audiovisual equipment technicians have a larger job market than cartographers. However, because of its specialized nature, cartography is a far better paying career, which should be of interest if you are considering a change in your career trajectory. In 2013, cartographers earned nearly $17,000 more than their AV counterparts, taking home $62,540 in national average salaries.
---
11. Licensed Practical Nurse (LPN) → Physician Assistant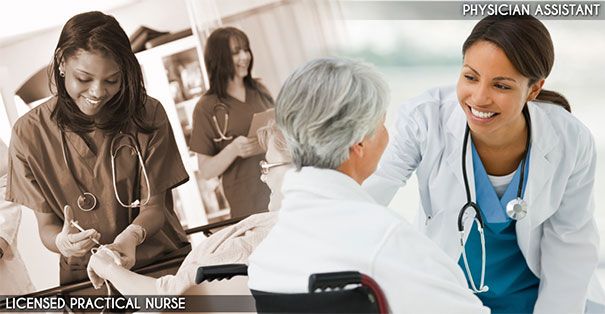 Licensed practical nurses (LPNs) are entry-level clinical practitioners who provide patient care in various health care settings, such as skilled nursing facilities or physician offices, generally under the supervision of a registered nurse or doctor. Physician assistants are qualified, advanced medical practitioners that provide a range of health care services similar to a doctor.
COMPATIBILITY: 2.8 out of 4
At the core of both professions is the desire to help others, providing service and care to those who require assistance. On one hand, LPNs have a secondary interest trait of taking a hands-on approach to solving problems, while on the other, physician assistants are investigative thinkers, who are able to brainstorm, work with ideas to solve complex issues. But sharing the practice of medicine patient care make these two occupations a match for career changers.
HOW: Master's degree, health care work experience, certification examination
Complete a bachelor's degree in nursing
Complete a master's of physician assistant studies
Successfully pass the Physician Assistant National Certifying Examination (PANCE)
Meet and complete any state-level certification or licensing requirements
WHY: Explosive career potential
Physician assistants are one of the most in-demand health care professionals in the country. Nationally, job growth between 2012 and 2022 is expected to break 38 percent, with 11 states projected to have even larger employment gains, led by Georgia (67.9 percent) and Arizona (51.3 percent). Doubling your salary potential may not sound bad either, as physician assistants took home more than $94,000 in average earnings in 2013, while LPNs earned just under $43,000.
Explore physician assistant degree programs
---
12. Bookkeeper → Accountant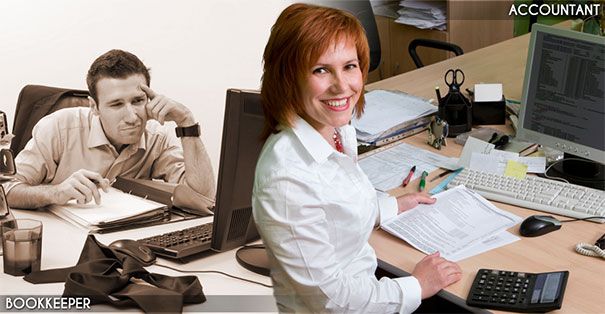 Bookkeepers are clerical financial specialists who organize and manage financial records such as transactions, statements and purchases for businesses. Accountants are more advanced financial professionals who handle financial statements, records and taxes, both for individuals and businesses.
COMPATIBILITY: 2.8 out of 4
Bookkeepers are traditionally detail-oriented, and they have developed knowledge in math and some basics in accounting. Conversely, accountants are also task- and detail-focused, able to work with numbers and financial information. Developing that core skill set as a bookkeeper makes the transition to accountant seem like a sound decision.
HOW: Bachelor's degree, certification, licensing
Complete a bachelor's degree in accounting or related field
Meet any state-level licensing requirements
To earn CPA designation, meet eligibility and education requirements to sit for and pass the Uniform CPA Examination from the American Institute of Certified Public Accountants (AICPA)
Consider earning voluntary credentials from organizations such as the Institute of Internal Auditors or the Institute of Management Accountants
WHY: Upward career mobility
Accounting offers the opportunity to grow professionally and pursue several specialized paths, including public and tax accounting. Besides career growth, accounting also provides you with the chance to dramatically boost your annual salary. In 2013, bookkeepers earned $37,250 on average, while accountants took home $72,500. Those numbers more than line up in anyone's career changing ledger.
Explore degree programs in accounting
---
13. Recreation Attendant → Investment Specialist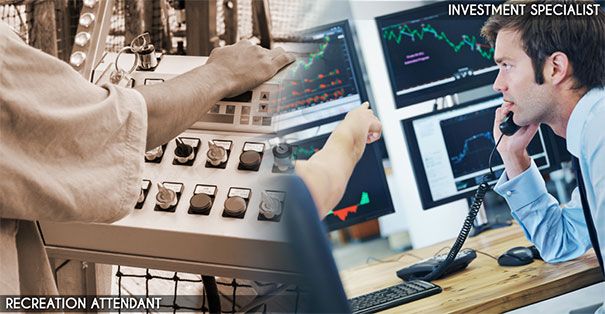 Named one of the worst minimum wage jobs in the country in 2014 by New Republic, recreation attendants handle a variety of responsibilities at amusement parks or recreation facilities, from Six Flags to the local arcade. This may include operating rides, taking tickets and managing concession stands. Investment specialists, also known as stock brokers, typically work for investment or trading firms, purchasing and selling securities and commodities.
COMPATIBILITY: 3.5 out of 4
Although these careers seem to be on opposite ends of the spectrum, they actually share numerous common occupational traits and interest areas, including order and routine, customer service and task management. Although their secondary knowledge areas diverge (economics and accounting for stock brokers, and administration and management for amusement park attendants), the hands-on dealing with the public and task-oriented nature of amusement park sets the stage for this career change.
HOW: Bachelor's degree, licensing and certification
Complete bachelor's degree in accounting, finance, economics or business
Participate in a professional internship with an investment firm or bank
Successfully complete examinations to register with the Financial Industry Regulatory Authority
Consider earning advanced credentials, such as Chartered Financial Analyst
WHY: 5X salary potential
Welcome to Wall Street. Stock brokers, investment executives and the like potentially command six-figure annual salaries, taking home an average of more than $102,000 in earnings in 2013. That's five times more than the approximately $20,000 the average park attendant took home in 2013.
---
14. Surveying Technician → Cost Estimator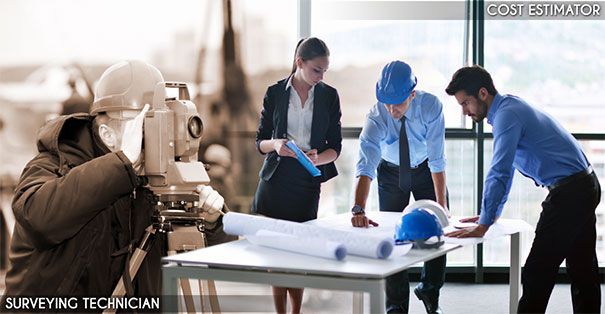 Assisting cartographers and surveyors, surveying technicians collect and analyze data to create maps. Collaborating with architects and engineers, cost estimators are responsible for developing expense and labor estimates for projects, from construction to manufacturing.
COMPATIBILITY: 3.3 out of 4
Mathematics, engineering and technology. These three areas of expertise are all shared by both surveying technicians and cost estimators. Besides the common professional knowledge of these two careers, individuals working in these fields also share a central career trait: They are data-driven decision makers. The project management experienced gained as a surveying tech should make the transition to cost estimator a smooth one.
HOW: Bachelor's degree, certifications
Complete a bachelor's degree program in engineering, construction management or a related field
Pursue voluntary certifications from organizations such as the Association for the Advancement of Cost Estimating or the American Society of Professional Estimators
WHY: Career opening
There isn't a massive gap between the average annual earnings of cost estimators ($63,660) or surveying technicians ($43,540), but it is still significant. A $20,000 salary bump would put a smile on anyone's face. The real difference in the two occupations is employment growth: 118,000 openings for cost estimators between 2012 and 2022, versus only 17,000 for surveying technicians.
---
15. Home Health Aide → Orthotist/Prosthetist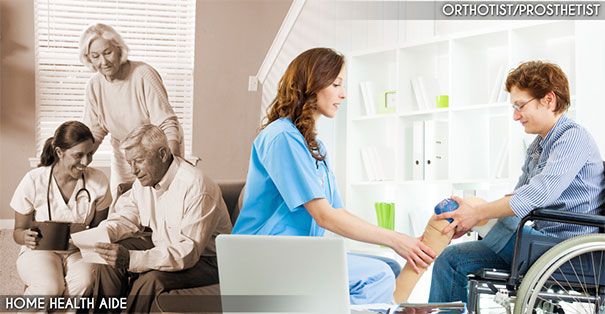 Home health aides provide a variety of medical and personal care services in a home setting to those who are disabled, recovering from surgery, are dealing with diseases or need other assistance. Orthotists and prosthetists are responsible for designing and fitting medical supportive equipment, such as artificial limbs, for patients.
COMPATIBILITY: 3.5 out of 4
The essential professional interests of both home health aides and orthotists/prosthetists are built upon two pillars: service and problem-solving. Individuals in these fields enjoy working with and helping others, while at the same time are practical thinkers, able to develop solutions to real problems. The diversity of issues a home health aide encounters in their day-to-day occupation can prepare them for a potential shift to orthotics or prosthetics.
HOW: Master's degree, residency, licensing and certification
Complete a bachelor's degree in any field, as long as mathematical and science coursework requirements are met
Complete a master's degree program of study in orthotics and prosthetics
Complete a 1-year residency
Meet state-level licensing requirements
Successfully complete certification examination from the American Board for Certification in Orthotics, Prosthetics & Pedorthics
WHY: Improved salary potential
Although home health is one of the largest and fastest-growing occupational fields, it is also one of the lowest-paying. In 2013, home health aides only earned $22,050 in average salaries. Counter that with orthotists and prosthetists, who earned $70,740. Secondly, orthotists and prosthetists aren't too far behind in the employment opportunity category, with national career growth expected to reach 35.5 percent between 2012 and 2022.
---
16. Optician → Logistician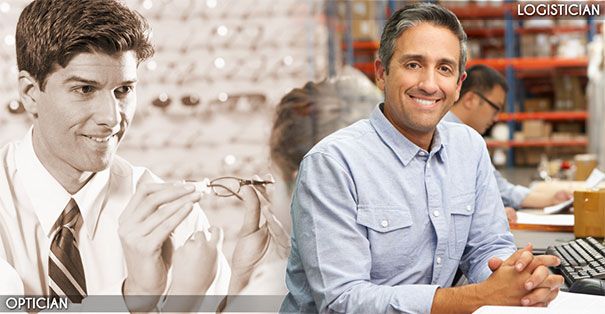 Opticians help consumers select and fit contact lenses, eyeglasses and other eyewear, based on prescriptions from optometrists and ophthalmologists. Logisticians are supply chain specialists, coordinating product movement for organizations from the supplier to the consumer.
COMPATIBILITY: 3.8 out of 4
These occupations share the same fundamental interests: Individuals in both professions are self-starters, who enjoy carrying out projects and making decisions. They are detailed-oriented, able to set and follow procedures and guidelines. The customer service skills developed while working as an optician translate well to logistics, as logisticians must balance the demands between supplier and customer.
HOW: Associate or bachelor's degree, certification
Complete an associate or bachelor's degree program in fields such as industrial engineering, business, or supply chain management
Earn certification from either the International Society of Logistics (SOLE) or American Society of Transportation and Logistics (ASTL)
WHY: 2X earning potential
In 2013, logisticians earned an annual salary of $76,330, while opticians only earned $35,710. Additionally, career growth for logisticians is expected to create more than 42,000 openings between 2012 and 2022 nationally — a growth rate of nearly 22 percent.
---
17. Mental Health Associate → Occupational Therapist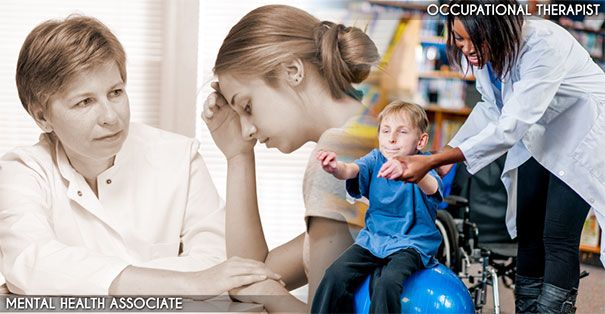 Working under the supervision of a physician, mental health associates, also known as psychiatric technicians, provide a range of services for individuals who have a host of mental diseases or developmental issues. Occupational therapists work with and treat individuals who may have suffered an injury, are disabled or are ill, using therapeutic exercise to recover or develop skills for everyday living.
COMPATIBILITY: 3.3 out of 4
These careers share a multitude of behavioral traits and institutional knowledge. Individuals working in these occupations tend to be socially oriented and share a desire to make a difference and help others. They have foundational knowledge of psychology and are skilled in both counseling and therapy. As such, it's a great match if you're thinking of a career move.
HOW: Master's degree, certifications and licensing
Complete a bachelor's degree program in a field such as biology, health, nursing, science or physiology
Complete a Master of Science degree in occupational therapy
Complete required clinical practicum as part of master's degree program
Successfully pass the National Board for Certification in Occupational Therapy (NBCOT) examination
Pursue voluntary certifications from organizations such as the American Occupational Therapy Association
WHY: Growing employment opportunities
Occupational therapy is one of the country's fastest-growing career fields, expected to add another 48,000 positions nationally between 2012 and 2022 — a growth rate of 29 percent. Yet it is the earning potential that makes occupational therapy stand out. While mental health associates earned just a shade over $33,400 in 2013, occupational therapists earned nearly $78,000, a difference of 132 percent.
Explore occupational therapy degree programs
---
18. Teaching Assistant → Health Educator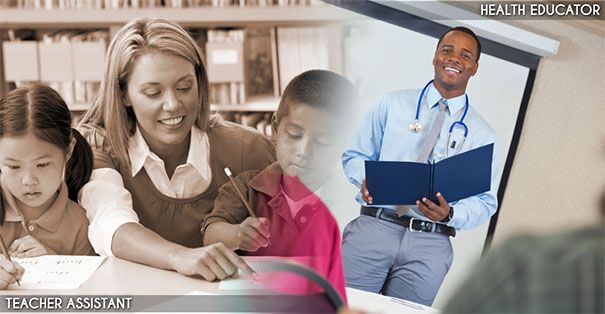 Working under the supervision of a lead teacher, teaching assistants help with classroom activities and provide a variety of support to teachers and students, from preparing materials to holding on-on-one instructional sessions with students. Health educators develop and institute healthy living strategies that benefit not only individuals, but the community at large.
COMPATIBILITY: 3.3 out of 4
The day-to-day tasks and responsibilities of these positions differ, but fundamentally, the basic knowledge and skills sets of these occupations are very similar. Teaching assistants are comfortable working with others in classroom settings and have experience in teaching others. The practical skills gained working as a teaching assistant should translate well into a potential career as a health educator.
HOW: Bachelor's degree, certification and licensing
Complete a bachelor's degree in a field such as health education or health promotion
Meet any state-level licensing requirements
Complete voluntary Certified Health Education Specialist (CHES) certification from the National Commission for Health Education Credentialing, Inc.
WHY: Complete professional growth
Making the move from teaching assistant to health educator opens the door to not only more employment opportunities but upward movement in potential career earnings. In 2013, health educators earned salaries more than double those of teaching assistants, $53,800 to $25,570. With a projected increase of 19 percent nationally for health educators between 2012 and 2022.
Explore health education programs
---
19. Research Assistant → Archivist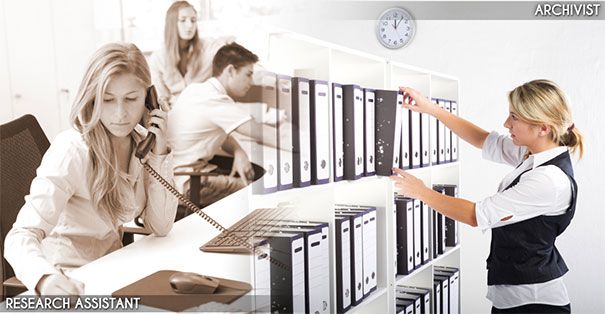 In support of social scientists, social science research assistants may handle a number of responsibilities both in the lab and survey settings, such as assisting with quality control, data analysis or research preparation. Archivists maintain documents with historical value, working to both authenticate and appraise those documents and to create safeguards for their preservation.
COMPATIBILITY: 3.5 out of 4
Because they both exist within the social science industry, these two occupations share a natural alignment. While social science research assistants are more focused on psychology, archivists deal with history and archaeology. However, both are investigative, critical thinkers who work well with data and are analytically inclined. The concentration around research is a primary reason why social science research assistants are well-suited to making the transition into the archivist career field.
HOW: Bachelor's degree, master's degree, certification
Complete a bachelor's degree in history, library science or related fields
Complete a master's degree in records management, archival science, history or related areas
Consider voluntary certification from the Academy of Certified Archivists
WHY: Better salaries
Archivists cannot compete with social science research on employment opportunities because of the difference in market size. However, because of the specialized nature, archivists remain in demand and command higher salaries. In 2013, archivists earned a national average salary of $52,670, while social science research assistants earned $41,430.
Explore history degree programs
---
20. Surgical Technologist → Oral Surgeon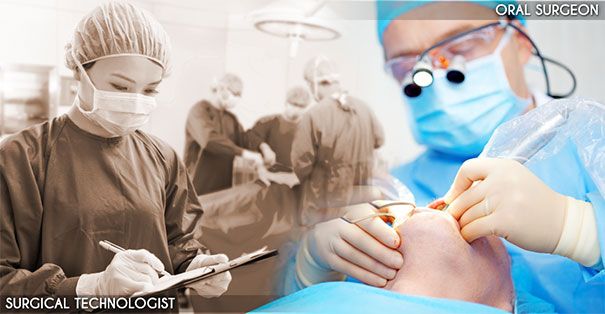 Surgical technologists, also known as operating room technicians, assist in surgeries, usually by arranging equipment, preparing operating rooms and helping doctors. Oral and maxillofacial surgeons have much more specific work with greater responsibility — they treat injuries, diseases or defects of the jaw and mouth area. They perform surgeries for dental implants, provide emergency treatment for injuries, and help restore shape and function to their patients' faces.
COMPATIBILITY: 3 out of 4
Both jobs have their primary interest in realistic work, focusing on practical, hands-on tasks, and their secondary interest in social interactions. Oral surgeons' primary knowledge area of medicine and dentistry is complemented by their familiarity with biology, while surgical technologists rely on medical and dental knowledge as a secondary area of expertise.
HOW: Bachelor's degree, doctoral degree, certification and licensing
Complete a bachelor's degree in science or related field
Successfully pass the Dental Admissions Test
Complete a Doctor of Dental Surgery (D.D.S) degree
Successfully pass the National Board Dental Examinations
Complete a residency program approved by the Commission on Dental Accreditation
Qualify for and meet state licensing requirements or examinations
WHY: 5X salary potential
Oral surgeons have one of the highest average annual salaries in the U.S., bringing home more than $218,000 annually as of 2013. It's nearly five times higher than the average salary of surgical technologists, which comes in just over $44,000.
Interested in one or more of these careers? Compare schools to see what educational opportunities are available online and in your area.