A crisp sunrise. A cozy sweater. Leaves crunching beneath your feet. Fall may be a time for transitions, seasonally speaking, but also one for traditions, both personal and historic. Nowhere is this more apparent than on a scenic campus saturated with the rich colors of autumn. Factor in the excitement of a new semester, holiday-themed events, and -- of course -- football, and you have the makings of a phenomenal college experience. Don't take our word for it -- live it at one of these 10 fall-worthy schools.
Colorado State University: In the foothills of the Rocky Mountains, the Fort Collins campus offers stellar views -- whatever the season -- but the turning of the leaves makes autumn unforgettable. So do the school's rich traditions. Take Ag Day, a celebration in which area growers dish up farm-fresh fare, barbecue style, to hungry football fans enjoying Colorado-brewed beer. Need that pulled pork with a side of good karma? An annual, campus-wide canned food drive, Cans Around the Oval, also falls in autumn.
Bennington College: The college's picturesque position in Vermont's Green Mountains allows students to experience the season and its spectacle of color in a way few others can. According to Bennington Media Associate Brian Davidson, one of the best viewing points is perched beside a stone wall -- known as "the end of the world" -- that borders the Commons Lawn. Particularly adventurous students can venture over to the old, allegedly "haunted" mansion now known as the Jennings Music Building.
Quinnipiac University: This university has a vibrant New England campus year-round, but autumn here is particularly stunning. According to Joan Mohr, vice president for admissions and financial aid, those looking for photo-worthy sights can head to the top of the school's York Hill campus where they can see as far as the north fork of Long Island. For a more rugged experience, grab your hiking gear and head to Sleeping Giant National Park situated just across from Quinnipiac's Mount Carmel campus.
Smith College: Known for its meticulous landscaping, the Massachusetts college's views in autumn are the stuff of legend. Just being on campus on a brisk fall morning is enough to warm any autumn-lover's soul, but for an experience you are unlikely to ever forget, visit the Botanic Garden.
University of Arkansas: Although the university is nestled in the Ozark Mountains of Arkansas, you need not trek to them to enjoy the season. According to Media Manager Steve Voorhies, the campus features two stunning arboreta with a combined 480 trees, and their fall colors linger long into November. Top off the day with a stroll along Maple Street, a tree-lined road that runs through the campus.
University of Maryland: With its tree-lined walkways and open space, the university offers lush fall colors, but it is the rich traditions that make the campus unique. According to Assistant Archivist Jason Speck, each autumn before exams students rub the nose of Testudo -- the school's mascot -- and leave him offerings. The campus takes on a new vibe as Halloween draws near, thanks to several allegedly "haunted" buildings. Students who just want to let loose, however, should attend Lights Out -- an all-night social event.
University of South Carolina: Fall at the University of South Carolina is about two things: Beauty and tradition. The tree-lined Thomas Cooper Reflection Pool is a great place to ponder both, though the perfect mesh of colonial and modern-style architecture at the Columbia campus may steal the spotlight.
University of Tokyo: There is a reason some students refer to fall at the University of Tokyo as "Golden Autumn." While dozens of photo-ready views appear all across this Japanese campus, a leisurely walk along the grand I-Jio Tree Avenue is an absolute must.
University of Toronto: The university's gorgeous trees and ivy-hung old buildings epitomize a Canadian autumn, but its unique architectural highlights are worth the trip, no matter what the season. While the school's St. George Campus is situated in the heart of downtown, you may feel as though you have been transported to another time, or a not-so-modern-day fairytale.
University of Tsukuba: The University of Tsukuba -- and its confluence of trees, waterways and modern buildings -- is perhaps at its most beautiful in fall. The season is also an active one for students thanks to the University Festival (Soho-sai) each October. The event allows students to get to know one another and celebrate the school's accomplishments.
While parents, potential students and curious visitors can get a sense for a school's culture any time of the year, fall -- and the excitement it brings -- is not to be missed. If you want to see autumn collegiate-style, check out these campuses. However, this list is by no means exhaustive; in fact, an abundance of colleges offer remarkable fall spectacles. Do some research, pack up your car and make a road trip of it; it could be the experience of a lifetime.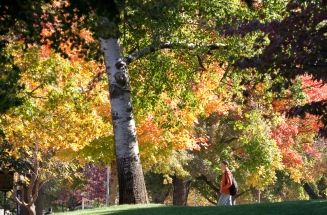 Photo Courtesy of University Relations, University of Arkansas