The first official Canadian university charter was granted in Nova Scotia in 1802, but the tradition of higher education in Canada goes back even further. The oldest post-secondary school in the nation, Université Laval in Quebec City, is more than 350 years old — only a couple of decades younger than the oldest institution in the U.S.
According to data published by Universities Canada and Colleges and Institutes Canada, there are 96 four-year schools and 127 community, junior and vocational colleges in the Great White North. Here's a table that shows a province-by-province breakdown of the supply of online and on-campus schools in Canada:
If you live in an area where brick-and-mortar schools aren't as plentiful, don't forget to look into online schools and colleges in Canada. Institutions that offer online degree programs, in Canada or worldwide, may allow you to continue your education regardless of difficult circumstances either schedule-wise or geographically.
Featured on-campus and online schools in Canada
University of Toronto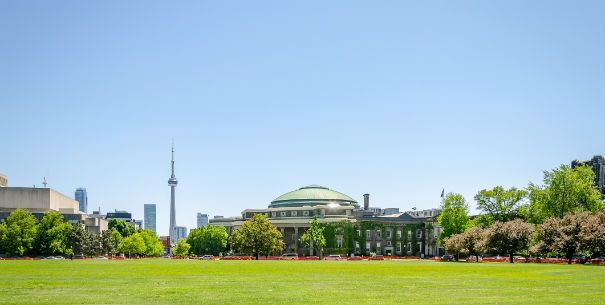 Since its founding in 1827, this old-guard Ontario institution has grown into one of the world's top research universities by several standards — not least of all the 2016 ranked list of global universities published by U.S. News and World Report. The rankings show the University of Toronto overall as the No. 16 university on the planet, with a long list top-20 showings for specific degree programs:
Clinical medicine: No. 6
Molecular biology and genetics: No. 9
Arts and humanities: No. 9
Space science: No. 10
Pharmacology and toxicology: No. 10
Biology and biochemistry: No. 11
Psychology/psychiatry: No. 14
Social science and public health: No. 14
Neuroscience and behavior: No. 16
The University of Toronto maintains three locations in southern Ontario, operating satellite campuses in Mississauga and Scarborough to complement the main campus facility in downtown Toronto. Total enrollment across all campuses and degree levels was 84,556 in the 2015-16 academic year, with nearly 70 percent of enrolled students taking courses at the St. George campus downtown.
McGill University
This Montreal institution is the No. 1 medical university in Canada in 2016, according to university rankings published by national Canadian newsmagazine Maclean's, and it's held on to that spot for 11 years running. McGill University is also one of the oldest schools in the country, having been founded nearly two hundred years ago in 1821, and has several degree programs on offer that U.S News ranks among the world's best:
Neuroscience and behavior: No. 18
Microbiology: No. 28 (tie)
Social science and public health: No. 33
Psychology/psychiatry: No. 36
Molecular biology and genetics: No. 36 (tie)
Ecology: No. 42 (tie)
Arts and humanities: No. 42 (tie)
Biology and biochemistry: No. 43
Immunology: No. 43 (tie)
Clinical medicine: No. 44 (tie)
McGill also stands out when it comes to terminal degree seekers and top-tier scholars. In the 2015-16 academic year, the university was No. 1 for both number of Ph.D. students per capita and total count of Rhodes Scholars (139) among all Canadian universities. Not only that, but the university's list of previous graduates includes astronauts, medical pioneers and eight winners of the Nobel Prize.
University of British Columbia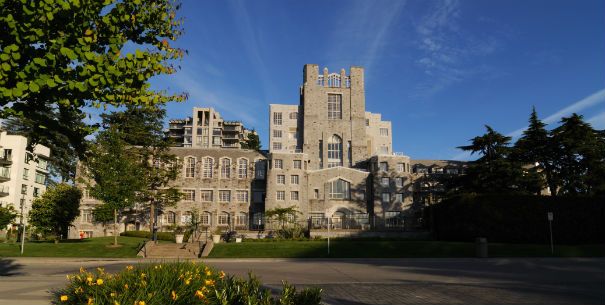 Canada's second institution to crack the U.S. News global top 50 makes its home all the way on the other side of the continent, on the shore of the Salish Sea in Vancouver. The University of British Columbia, or UBC, was founded as a western offshoot of McGill University in 1908 but broke off seven years later as an independent institution.
UBC's overall global university rank was No. 33 in 2016, and it had its share of top-ranked degree programs as well:
Plant and animal science: No. 7
Ecology: No. 8 (tie)
Computer science: No. 16 (tie)
Agricultural sciences: No. 20
Psychology/psychiatry: No. 22
Social science and public health: No. 23
Mathematics: No. 23
Biology and biochemistry: No. 30 (tie)
Space science: No. 31
Total enrollment at the University of British Columbia reached 61,113 in 2015-16, with more than 86 percent of those students enrolled at the Vancouver campus and the remaining 8,392 taking classes at a satellite campus in Okanagan. UBC is also a solidly international university in terms of student body, with 23 percent of 2015-16 students originating in countries outside of Canada.
University of Alberta
The University of Alberta is the top Canadian university in the inland provinces by U.S. News metrics and one of the five best medical/doctoral universities in all of Canada according to Maclean's. Numerous degree programs available at the Edmonton institution ranked among the top 100 in the world, according to U.S. News and World Report:
Agricultural sciences: No. 49
Computer science: No. 55
Engineering: No. 65
Ecology: No. 65 (tie)
Economics and business: No. 72 (tie)
Plant and animal science: No. 76 (tie)
Clinical medicine: No. 79 (tie)
Pharmacology and toxicology: No. 80
Biology and biochemistry: No. 95 (tie)
Geosciences: No. 95 (tie)
Classes first began at the University of Alberta over 100 years ago, in 1908, with just 37 students — a number that has increased three orders of magnitude and more in the century since its founding to build a 2014-15 student body of 38,733. Important medical and ecological work has been taking place here for several decades, from historical research that helped lead to breakthroughs in illness management for diabetic patients to contemporary studies designed to reduce the environmental footprint of the province's vital beef industry.
Simon Fraser University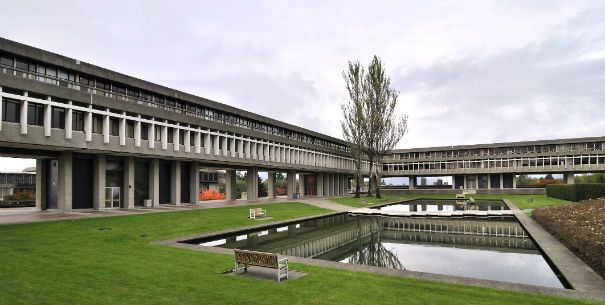 The Maclean's rankings include what's called comprehensive institutions -- that is to say, schools that pair significant research programs with undergraduate and graduate degrees and professional credentialing programs — and Simon Fraser University in British Columbia led all comprehensive universities in the nation on the 2016 rankings list. The U.S. News list of top global programs at SFU is a bit smaller than those at its somewhat larger counterparts, but there are enough highly regarded programs to place the Burnaby school as the No. 12 university in Canada overall:
Computer science: No. 99 (tie)
Ecology: No. 117 (tie)
Social science and public health: No. 134 (tie)
Physics: No. 174 (tie)
Plant and animal science: No. 213 (tie)
Simon Frasier University is a relatively new institution on the Canadian higher education scene, having opened its doors just over 50 years ago, in September 1965, but it has to its name a distinction that no other Canadian university can claim — it's the first Canadian member of the National Collegiate Athletic Association (NCAA), the largest college sports association in the world.
University of Manitoba
Nestled in a meander of the Red River on the southern edge of Winnipeg, the University of Manitoba was founded in 1877 as the first university-level school in Western Canada and has grown to serve the population of its province and greater region ever since. U.S. News and World Report ranks U of M as the No. 15 school in Canada and the No. 362 school in the world, with globally ranked degree programs in agricultural sciences (No. 82) and clinical medicine (No. 211).
Student enrollment at U of M was 29,657 in the 2014-15 academic year, with around 85 percent of students pursuing in undergraduate degrees and the remaining 15 percent (3,719) enrolled in graduate and post-graduate programs. The university also maintains a satellite campus and physical plant a few kilometers up the road at its Bannatyne campus.
Athabasca University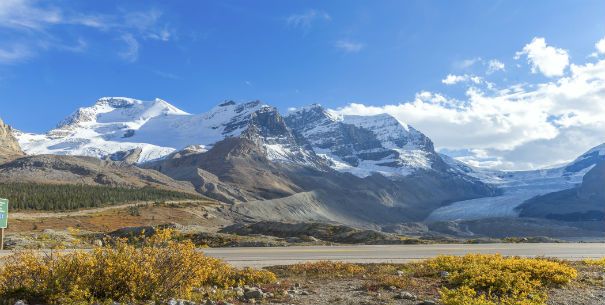 As the largest among the online colleges in Canada, Athabasca University offers more than 50 certificate programs, diploma tracks and undergraduate and graduate degree plans in subjects such as accounting, public administration, management, human resources, health administration, applied mathematics, the arts and more. The school is based in Alberta, but students from anywhere in Canada can sign up to take one-off classes or full degree programs in the virtual classroom.
Athabasca is by far the No. 1 Canadian institution in terms of part-time student enrollment, showing a total graduate-undergraduate headcount of 32,750 part-time students in 2015, although that statistic shouldn't be terribly surprising. Online degree programs in Canada typically make it possible for students to schedule their coursework around existing professional and personal responsibilities, which can lead to fewer credits per term than are typically necessary for nominally "full-time" enrollment.
How can I enroll in an online or on-campus school in Canada?
For more information about online or on-campus programs, you can start by browsing through the school listings below.
Article Sources
Article Sources
Tuition fees by university, Universities Canada, accessed June 20, 2016, http://www.univcan.ca/universities/facts-and-stats/tuition-fees-by-university/
Member Profiles, Colleges and Institutes Canada, accessed June 20, 2016, http://www.collegesinstitutes.ca/our-members/member-directory/
Best of the best: Introducing the 2016 Maclean's University Rankings, Maclean's, accessed June 20, 2016, http://www.macleans.ca/education/best-of-the-best-introducing-the-2016-macleans-university-rankings/
Best Global Universities, U.S. News and World Report, accessed June 20-21, 2016: University of Toronto, http://www.usnews.com/education/best-global-universities/university-of-toronto-499968; McGill University, http://www.usnews.com/education/best-global-universities/mcgill-university-499986; University of British Columbia, http://www.usnews.com/education/best-global-universities/university-of-british-columbia-499976; University of Alberta, http://www.usnews.com/education/best-global-universities/university-of-alberta-499977; Simon Fraser University, http://www.usnews.com/education/best-global-universities/simon-fraser-university-499981; University of Manitoba, http://www.usnews.com/education/best-global-universities/university-of-manitoba-503954;
School pages, accessed June 20-21, 2016: Quick Facts, University of Toronto, https://www.utoronto.ca/about-u-of-t/quick-facts; Overview and Facts, The University of British Columbia, https://www.ubc.ca/about/facts.html; About McGill, McGill University, http://www.mcgill.ca/about/; Notable Alumni, McGill University, http://www.mcgill.ca/about/alumni; Founding the University, University of Alberta Centenary, http://www.ualbertacentennial.ca/history/founding/index.html; Research and Innovation, University of Alberta, https://uofa.ualberta.ca/about/facts/research; Students, University of Alberta, https://uofa.ualberta.ca/about/facts/students; About, Simon Fraser University, http://www.sfu.ca/about.html; By the Numbers, Facts and Figures, University of Manitoba, http://umanitoba.ca/about/factandfigures/#facts-and-figures/by-the-numbers; About the University, University of Manitoba, http://umanitoba.ca/about/; Facts and Statistics, Athabasca University, http://www.athabascau.ca/aboutau/media/aufacts/; Undergraduate Online Programs, Athabasca University, http://www.athabascau.ca/programs/undergraduate/
About the Industry, Alberta Beef Producers, accessed June 20, 2016, http://albertabeef.org/page/about-industry
X