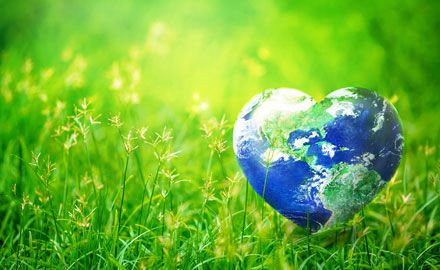 You're the person who doesn't wait for Earth Day to worry about climate change, animal endangerment, clean energy and conservation. You're concerned about all of the above year-round. Maybe you've even thought about a green career but haven't quite found one that's the right fit.

Have no fear. Gone are the days when careers like environmental scientist, conservationist, environmental engineer and a handful of others were the only eco-friendly options. Today, as environmental awareness becomes a greater priority in the U.S., it's also become big business, and an array of jobs has taken on a green sheen. If you're interested in making our world a better place, here are some off-the-beaten-path green careers to consider, and salary info from the Bureau of Labor Statistics to match.
1. Marketing Managers
Median annual wage: $145,620
Education: Bachelor's, combined with experience in marketing, advertising or sales
It may not be the first green scene to come to mind, but a career in marketing is actually a great way to support your favorite environmental causes. By working as a marketing manager with a business or nonprofit that shares your mission, you get to devise the messaging that communicates your passion. That means you can plan marketing campaigns that raise awareness around any number of topics: diminishing amounts of sea ice, growing mounds of ocean plastic, recycling, clean energy … the list goes on. According to the Bureau of Labor Statistics (BLS), the need for this position is growing by about 10 percent, which is faster than average.
2. Personal Financial Adviser

Median annual wage: $124,140
Education: Bachelor's in business, finance or related area
The need for financial planners, and not just in the business world, is on the rise. In fact, the BLS says that personal financial advisers can expect jobs growth near 15 percent. So how does managing someone's money make good "green" sense? It's all through investment decisions. Green financial advisers don't just plan for their client's future; they bank on the future of the earth by opting for eco-friendly, socially responsible investing. In addition to a bachelor's, certification and a graduate degree in finance or even accounting could help you advance in this profession.
3. Environmental Engineering Technician
Median annual wage: $53,610
Education: Associate degree in environmental engineering technology or related field
Environmental engineering technicians are the people who help carry out the larger plans of environmental engineers. That means they handle testing and experiments in areas such as pollution control, disposal of hazardous material, modifying equipment, and other tasks. There's a growing need for employees in this field as local governments focus more attention on water use and treatment of wastewater. According to the BLS, the jobs are growing at a rate of 13 percent, which is higher than average job growth.
4. Urban Planner
Median annual wage: $74,350
Education: Master's degree in urban planning
Urban planners work to create sustainable communities, and it's a career growing faster than average. In essence, they are the big-picture architects of a town, and usually work within the local government. According to the American Planning Association, a nonprofit that works with planners, the job includes the following types of tasks: projecting population numbers in order to plan for land use; identifying locations for businesses, shopping entertainment and other entities needed to draw people to the community; determining transportation needs; working with civil engineers to ensure water and waste needs are met, and more. In the same vein, consider looking at the best schools for architecture.
5. Construction Manager
Median annual wage: $101,000
Education: Bachelor's degree in construction-related field plus additional sustainable construction training
Green construction projects are on the rise. According to a report by McGraw Hill, 62 percent of businesses constructing new, single-family homes report that at least 15 percent of their sites are green. Eighty-four percent of construction firms expect to reach that level by 2018, which means those companies will typically need construction managers that have experience in planning, supervising and budgeting green projects. The nonprofit National Center for Construction Education and Research offers a U.S. Green Building Council-approved module aimed at educating sustainable construction supervisors on project sustainability, green building materials and green building methods.
---
With a growing emphasis in the U.S. on renewable energy, the demand for wind turbine technicians is nearly double that of average jobs.
---
6. Zoologist

Median annual wage: $66,250
Education: Bachelor's degree in biology or zoology
Zoologists work closely with animals to study their behaviors and learn more about them and how they interact with the environment. Because climate change impacts wildlife, a job as a zoologist has natural ties to conservation, particularly in dealing with threatened and endangered species. If you're interested in performing in-depth research on animals and conservation (which many zoos are actively involved in), you'll want to consider a master's or Ph.D. Bonus: you may get to get up close and personal with penguins, orangutans and other incredible creatures. These jobs are growing at the average national rate. 
7. Wind Turbine Technicians
Median annual wage: $56,680
Education: Some college, usually a two-year technical program
With a growing emphasis in the U.S. on renewable energy, the demand for wind turbine technicians is growing much faster than that of average jobs at nearly 96 percent, according to the BLS. In this field, techs — usually armed with an associate degree — might receive on-the-job training for up to a year, as they learn how to install and maintain turbines. Those interested in this job should expect to work outdoors, often for long periods of time, and they shouldn't be afraid of heights or working in small spaces.
8. Water Resource Specialist
Median annual wage 2016: $119,850
Education: Bachelor's in natural science or other science-related field
Want to work at the intersection of the environment and human health? A water resource specialist handles all things water related, overseeing quality, supply and regulatory issues. That could mean monitoring the quality of water, collaborating with the owners of water systems and working with the state to address any challenges that impact drinking water. According to the BLS, the need for water resource specialists and other environmental specialists is growing up to 14 percent, which is faster than average job growth, because scientists are in demand to respond to the increased strain on natural resources as the population grows.
Sources
Occupational Outlook Handbook, 2016-17 Edition," Bureau of Labor Statistics, U.S. Department of Labor, Accessed April 5 2018, http://www.bls.gov/ooh/management/construction-managers.htm
Occupational Employment Statistics, Bureau of Labor Statistics, U.S. Department of Labor, Accessed April 5, 2018, http://www.bls.gov/oes/current/oes191023.htm
"Green Multifamily and Single Family Homes: Growth in Recovering Market," McGraw Hill Construction Company, SmartMarket Report, June 5, 2014, 

http://construction.com/about-us/press/green-homes-show-growth-in-a-recovering-market-according-to-new-sm-report.asp

 "Sustainable Construction Supervisor," National Center for Construction Education and Research. Accessed March 18, 2015, http://www.nccer.org/sustainable-construction-supervisor?pID=undefined
"Water Resource Specialists," Association of American Geographers, Accessed March 18, 2015, 

http://www.aag.org/cs/salary_data_and_trends/manufacturing/11-9121.02

"Becoming an Urban Planner: What Planners Do," John Wiley & APA Planners Press, American Planning Association, 2010, https://www.planning.org/ncpm/pdf/UrbanPlannerExcerpt.pdf
"Water Resource Specilaists", ONET, https://www.onetonline.org/link/summary/11-9121.02