Surfers vs. tree huggers. "Hella" vs. "bro." Giants vs. Dodgers. Hollywood vs. Silicon Valley. It's no secret that the unofficial rivalry between Northern and Southern California runs deep, and the list of points of spirited contention goes on — even when it comes to education.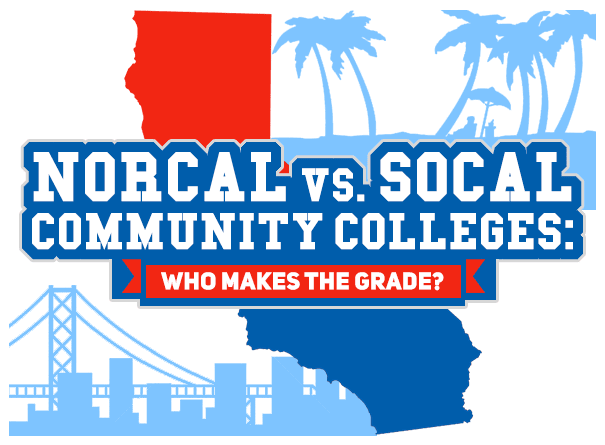 You may have heard of some of the campus-based or online colleges in California, but it's community colleges across the entire Golden State that might be the best-kept secret in American higher education: According to a College Board report, two-year public schools in the state charged an average annual tuition of just $1,429 in 2014-15. What's more, when we ran the numbers and ranked the best community colleges in California, we discovered that prospective students of the 112 two-year colleges we initially ranked have plenty else to be excited about, like easy access to professors and online learning options.
Still, we love a good rivalry, and with playful digs at slang choices and a good-natured ribbing of who's got it better between the shady redwoods of Humboldt County and the cheerful sunshine of sunny San Diego, we knew we had to pit NorCal versus SoCal for ultimate community college supremacy. We took four of the main metrics in our original methodology that ranked all community colleges in the state — university transfer rate, student-faculty ratio, affordability and distance education — and compared the 10 top colleges in both regions to see who makes the grade for each metric.

NorCal: A+ for transfer rate
There are three main reasons why students usually enroll in community colleges: some sign up to get a professional certification or vocational degree, some are there just to learn a new skill or brush up on a knowledge area, and some hope to tackle some general education requirements before transferring to university to take their major-concentration coursework. This particular metric concerns itself with that last group, those who springboard out of junior college into a bachelor's- or master's-level program at a school in the University of California (UC) or California State University (CSU) system.
Community colleges in Northern California took the top spot when it comes to these transfer rates per 1,000 students, with two schools in particular — Hartnell College and the College of San Mateo — standing significantly ahead of the others. In fact, the 10 colleges representing the NorCal region produced nearly 60% more transfer students than their counterparts in the southern half of the state.
Bottom line: If admission to a 4-year school in the UC or CSU system the long-term goal that aligns with your career goals, definitely consider starting your educational path at a NorCal community college.

SoCal: A+ for distance education
Accessibility to unconventional methods of instruction can represent a college's commitment to education for a diverse range of people, and the number of distance education students enrolled at an institution can serve as a measure of the strength of its dedication to accessibility. The winner in this category wasn't quite as clear-cut as the others, so let's take a look at some of the detail in the data.
The top spot for students enrolled exclusively in distance education went to community colleges in Southern California, with Palo Verde College's 31 percent blowing away the rest of the field. West Hills College - Lemoore was the star performer among community colleges in Northern California, ranking No. 1 overall for students enrolled in any sort of distance education at all with 43 percent. The second place schools in each region — Mendocino College in NorCal and Taft College in SoCal — each had 33 percent of their students taking some form of distance education, with Taft taking a slight edge in the all-online percentage. We're going to give this one to SoCal by a nose, but it could potentially go either way.
Bottom line: California seems to be a haven for students who need diverse learning options, and you can likely find the flexibility you need in either part of the state, but keep in mind that SoCal has more students exclusively enrolled in online education.

NorCal: A+ for student-faculty ratio
It's widely agreed that fewer students per teacher tends to make for instruction that's more personalized, and more personalized instruction is often more effective. Schools in our study ran the gamut of student-faculty ratios, ranging from as high as 48 students per faculty member to as low as 16.
Yet community colleges in Northern California were clear winners on this metric. No fewer than three schools included in our study — Mendocino College, College of Marin and Feather River Community College in Quincy — had student-faculty ratios that ranked in the top 10 percent statewide, and both San Jose City College and Cañada College ranked not far behind, in the upper quintile.
Los Angeles Southwest College took the top spot among community colleges in Southern California with a finish in the top 40 percent, but it wasn't enough to tip the scales.
Bottom line: It's important to remember how crucial access to professors and instructors can be — especially when you consider the throngs of students a bigger university lecture hall can fit. Consider a NorCal community college if better chances at engaging with your faculty sound appealing.

SoCal: A+ for affordability
The burden of student loan debt has been a hot topic over the last several years, particularly since tuition expenses have gone up thousands of dollars per student per year at some institutions. California may be the most affordable state overall for two-year colleges, but there's quite a bit of variation from region to region.
This metric was another one with a clear winner, this time favoring schools in SoCal over their northern counterparts. We gave each school an affordability score based on where it ranked in relation to others, and the average score of 4.5 for community colleges in Southern California came in well ahead of the 2.8 average earned by NorCal schools, on a ten-point scale. Santa Ana College in Orange County took the top spot on this list, followed by four members of the LACCD: Los Angeles City College, East Los Angeles College, Los Angeles Trade Technical College and Los Angeles Southwest College. The most affordable school up north, Cañada College in Redwood City, was less affordable than all but the four most expensive schools we sampled in SoCal.
Bottom line: Like we mentioned at the start, California as a whole has some pretty affordable 2-year schools, but if the total cost you're facing for community college — including tuition, fees, books and supplies — is your deciding factor, consider attending one in sunny SoCal.
Wait, so who makes the grade?
Each region got top marks in exactly two of our four metrics, which might make it seem at first as though they're just plain equal, but it's important to consider the details of what you're looking for in an education that meets your career goals. If you're looking for a community college experience with smaller classes, then you're more likely to find what you're after at community colleges in Northern California. However, if affordability is your main objective, SoCal might be the place for you.
Here's a list of all the schools we looked at, and once you check out if any of these could be a good fit, make some longer-term educational goals and check out more information about campus-based colleges in California:
Best Northern California community colleges:
1. West Hill College - Lemoore
2. Porterville College
3. San Jose City College
4. Mendocino College
5. Hartnell College
6. College of Marin
7. Contra Costa College
8. College of San Mateo
9. Cañada College
10. Feather River Community College
Best Southern California community colleges:
1. Norco College
2. Los Angeles Trade Technical College
3. Los Angeles City College
4. Bakersfield College
5. Palo Verde College
6. Taft College
7. East Los Angeles College
8. Imperial Valley College
9. Los Angeles Southwest College
10. Santa Ana College
___

Sources:
1. "University of California Origin of New Undergraduates, Academic Year: 2013," California Community Colleges Chancellor's Office, Report Issued Oct. 29, 2014, accessed April 2, 2015, https://www.elcamino.edu/administration/ir/docs/acadperformance/New%20EnrCCCUCCampus13-14.pdf
2. Tuition and Fees by Sector and State over Time, Trends in Higher Education, The College Board, accessed June 23, 2014, http://trends.collegeboard.org/college-pricing/figures-tables/tuition-fees-sector-state-time
3. IPEDs Data Center, National Center for Education Statistics, accessed April 2015, https://nces.ed.gov/ipeds/datacenter/