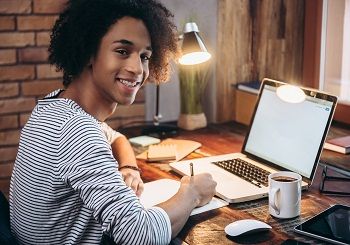 As the coronavirus causing COVID-19 has swept across the country, colleges and universities have closed their doors. Rather than cancelling the remainder of the semester, many schools have shifted to online college classes, meaning students who used to learn in a lecture hall now must adjust to learning in a virtual classroom.
It's not always an easy transition, but scores of students have successfully earned a college degree online, and today's technology can create an immersive experience. Regardless of whether you are a new online student by choice or by circumstance, here are tips and resources to help you overcome some common challenges online learners face.
Challenge: Unfamiliarity with online learning platforms
Solution: Participate in an online orientation, search for online tutorials
At many colleges and universities, even on-campus students use online learning management systems to access class details such as syllabi and assignments. However, these programs take on new importance when you take college classes online.
Blackboard, Moodle and Canvas are a few of the most commonly used learning management systems. If you find yourself struggling to navigate them, see if your school offers an online orientation that can better explain how to use the platform. If that's not available, search for online tutorials. Although each school may customize their system, basic functions should remain the same across institutions.
Challenge: Poor internet access or faulty technology
Solution: Troubleshoot your wifi signal, contact the help desk
A strong, stable internet connection is vital for online classes for college. If your wifi is slow or inconsistent, you may need to reposition your router to somewhere else in the house, invest in a wifi booster or shut down background programs that are accessing the internet. Using an ethernet cord to plug directly into your router could also fix the problem. However, in some cases, you may need to upgrade your service to get the desired internet speed.
If you're having trouble with a particular program or application, contact your school's helpdesk. You may be able to chat, call or email a support technician for help. With so many college courses online now, some schools offer this service 24/7.
Challenge: Conducting research without access to a physical library
Solution: Learn to use digital resources effectively
While the days of doing research solely from physical books and documents are long past, it's always nice to have those resources handy when needed. However, as an online student, you'll rely largely on the internet for your research needs.
Start by checking out your school's digital tools. Many offer students access to databases such as LexisNexis and EBSCO. There are also no-charge search tools, such a Google Scholar, available to everyone. Before beginning a research project, see whether your instructor has any limitations on sources. For instance, some online university courses may requires that only websites with .gov or .edu extensions can be used in research. Opinions vary about Wikipedia, so be cautious about sourcing material directly from there, but you can look in the footnotes of a Wikipedia entry to find primary sources that may be useful for your research.
Of course, don't overlook your college or university's librarians. Many are available online to provide distance learners help with research projects.
Challenge: Online college courses taught in a conflicting learning style
Solution: Communicate with your instructor, look for apps or tools to fill in the gaps
It can be a challenge if you learn best by reading notes and your instructor teaches solely using online video lectures. Likewise, audio learners may struggle when everything for a class is presented in written form.
Addressing this challenge may require some creativity, but first, talk to your instructor. They may be new to online teaching, and feedback from students can help them polish their delivery of content. If your instructor prefers video lectures, ask whether he or she may have lecture notes that could be posted along with the video. For those who prefer online chats or written assignments, see if they would be open to recording an occasional video lecture or using an app like Screencastify or Screencast-O-Matic to walk through problems using their computer screen.
While some instructors may be open to these suggestions, others may not. In that case, you'll need to look for ways to convert materials into your preferred learning style. That may mean recording video lectures with an app like Just Press Record and transcribing the audio or searching for video tutorials to supplement class instruction.
Challenge: Unresponsive or negative classmates
Solution: Understand difficult communication styles, speak to your instructor
Without being able to hear someone's tone or inflection, it can be difficult to gauge emotion over the internet. When you take classes online, you may find some students sound annoyed or angry on message boards or in chatrooms. Keep in mind they may simply have an abrupt writing style rather than harbor any ill-will toward you.
However, if you feel you are on the receiving end of verbal abuse or harassing behavior, document the incident and let your instructor or the school know immediately. You should also contact your instructor if you've been assigned a group project, and other members are difficult to reach or fail to follow through with their part of the assignment.
Challenge: Staying on track when you don't have a set class schedule
Solution: Create systems that help you stay accountable and efficient
Whether you take university or community college online courses, time management is one of the biggest challenges you may face. Many schools use asynchronous learning which allows students to log-in and work at whatever time they'd like. That's convenient but with no regular class schedule, it can be difficult to stay on track with assignments.
The easiest way to address this challenge is to create your own routine with dedicated times each day or week to work on specific classes. Use a planner or calendar app to track assignments, or use services like KanbanFlow or Trello to create tasks or checklists with due dates. If social media or other websites pose a distraction, apps like Freedom, SelfControl and FocusMe can block problem sites and keep you focused on work.
Challenge: Avoiding social isolation
Solution: Take advantage of opportunities to interact
Being home alone all the time isn't good for anyone's mental health. To stay connected, take advantage of any opportunity to connect with classmates and instructors. For instance, even if it won't be graded, consider logging in to a class chat or participating in a Zoom meeting.
Sometimes taking a break from the computer screen, getting some exercise or going outside can help alleviate feelings of loneliness as well. And once the coronavirus crisis has passed, be sure to participate in networking events and on-campus activities that are open to both traditional and distance learners.
Article Sources
Article Sources
4 Common Challenges Facing Online Learners and How to Overcome Them, May 7 2019, Purdue University Global, Accessed April 2020, https://www.purdueglobal.edu/blog/online-learning/4-challenges-facing-online-learners/
4 Ways to Avoid Isolation as an Online Student, Ryan Hickey and Claire Carter, CollegXpress, Accessed April 2020, https://www.collegexpress.com/articles-and-advice/majors-and-academics/articles/college-academics/4-ways-avoid-isolation-online-student/
7 of the Best Screencasting Software Tools for Classrooms, Fractus Learning, Accessed April 2020, https://www.fractuslearning.com/best-screencasting-software-classrooms/
10 Easy Ways to Speed Up Your Internet Connection, Reviews.org, Accessed April 2020, https://www.reviews.org/internet-service/how-to-speed-internet-connection/
Best speech to text software in 2020: Free, paid and online voice recognition apps and services, Nicholas Fearn, Brian Turner, February 5, 2020, TechRadar, https://www.techradar.com/news/best-speech-to-text-app#best-free-speech-to-text-apps
Blackboard Learn Videos for Students, Blackboard, Accessed April 2020, https://help.blackboard.com/Learn/Student/Watch_Videos
Research Tips for College Students: Finding Relevant Information Quickly, May 11, 2017, Northcentral University, https://www.ncu.edu/blog/research-tips-college-students-finding-relevant-information-quickly#gref
The 4 Online Databases You Need to Survive College-Level Research, Elizabeth Mack, October 7, 2015, Noodle, Accessed April 2020, https://www.noodle.com/articles/the-4-online-databases-to-know-for-smart-research-work
X