College can be one of the most formative periods in a student's life. The characteristics of the city in which you attend school can have a substantial effect on your college experience both in and out of class. Not only that, but if the city into which you graduate has an enjoyable recreation scene, reasonable housing costs and a thriving economy, you may be set up for a relatively seamless transition out of university life and into the career world.
No college exists in a vacuum, after all. Big or small, public or private, prestigious or otherwise, every institution of higher learning in America can only exist within the context of the municipal environment that surrounds and sustains it.
We gathered data on more than 170 medium-sized and small college towns, focusing on those with populations of fewer than 150,000 residents. We analyzed the statistics that matter most to students -- walkability, housing affordability, employment rate, median age of population, etc. -- and gave each municipality an overall score based on its performance in each category. You can scroll to the bottom of the article to learn more about our methodology.
Without further ado, however, here they are: the best college towns in America.
Champaign, Illinois
Percentage of people enrolled in college:
76.3%
This central Illinois city took the No. 1 spot overall by turning in impressive finishes in just about every statistical category. No other city on our list had a lower unemployment rate than Champaign, for one, and it placed among the top five schools for its nightlife, its percentage of college-aged residents and the capability of students at the University of Illinois Urbana-Champaign to get around by walking, biking and taking public transportation.
Champaign also boasts numerous performing arts venues, a world-class library and urban amenities galore in a small-city environment. Not only that, but students who like easy access to a large city are only about two hours away from Chicago to the north and Indianapolis to the east.
Fayetteville, Arkansas
Percentage of people enrolled in college:
63.8%
The medium-sized city of Fayetteville is home to the University of Arkansas, the largest four-year school in the state, and it's got a lot of attractive statistics for prospective students. Students who want to study in a generally safe environment might want to give Fayetteville a second look -- it reported the lowest crime rate of any city among our top college towns.
Arkansas' official nickname is the Natural State, and visitors to the area around Fayetteville won't be left wondering why. The city itself is a Tree City USA community and prides itself on its urban forests, and the northwest Arkansas region is home to hundreds of miles of greenspace, mountain bike trails, lakes, rivers, state parks and more.
Columbia, Missouri
Percentage of people enrolled in college:
62.8%
Columbia, Missouri, is one of the larger college towns on our list, with an estimated population over 120,000, but it's not so big that you'll automatically feel lost in the crowd. More than 88 percent of residents report a commute of less than 30 minutes, good for the No. 8 spot among schools on our list in that category.
Students here have three colleges and universities to choose from -- two private institutions and the flagship campus of the University of Missouri, the state's largest school -- and paid lower rent on average than those in all but five other locations on our list. Columbia also ranked in the 90th percentile for the overall youth of its population and for the percentage of residents enrolled in school.
"Our community offers a wide variety of opportunities for students to enjoy their time when they aren't in the classroom, from museums and trails to live music and a vibrant downtown. All just steps away from campus." - Sara Humm, Public Communications Specialist, City of Columbia
Bloomington, Illinois
Percentage of people enrolled in college:
39.4%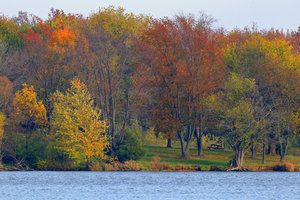 The economic indicators for the second Illinois city on our list were among some of the best in the country. Not only do students in Bloomington pay the lowest median rent of any city in our top 20, but the unemployment rate was just 3 percent in 2016.
The hometown institution for Bloomington residents is Illinois Wesleyan University, a private and exclusively undergraduate school of around 1,800 students, but it's not the only higher education option in the area. Illinois State University, the oldest public college in Illinois, is located just a mile or so up the road.
"Bloomington has a close-knit community feel with lots of "bigger city" amenities as well as easy access to major metros such as Chicago and St. Louis. The city has a rich past, as reflected in its historic downtown, as well as a bright future ahead." - Nora Dukowitz, Communication Manager, City of Bloomington
Oshkosh, Wisconsin
Percentage of people enrolled in college:
55.9%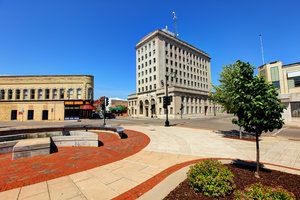 Approximately 66,000 people live in Oshkosh, a city of around 24 square miles in the heart of the Fox River Valley. The valley's namesake river runs right through the center of this Wisconsin gem, which is bordered by Lake Winnebago to the east and Lake Butte des Morts to the west.
Oshkosh was one of the safest cities in our top 20, ranking No. 6 for its low crime rate, and it reported a lower median rent than all but four other cities on our list. The local institution is the University of Wisconsin Oshkosh, where nearly 14,000 students attend classes each year.
Rabid football fans might enjoy going to school here, also. The gridiron mecca of Green Bay is less than an hour up the road.
Fargo, North Dakota
Percentage of people enrolled in college:
52.5%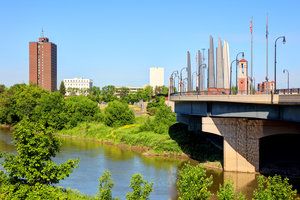 Fargo is the largest city in North Dakota, but it still has plenty of that attractive small college town vibe. Students hoping to go to school in Fargo have among two very different options: North Dakota State University, a public school with enrollment over 14,000; and the University of Mary, a private Benedictine Catholic institution that educates around 4,400 students annually.
Affordability was one of the top metrics for Fargo residents, with only two other cities on our list reporting a lower average percentage of median earnings going to rent. It was also the No. 1 city of all 170+ we surveyed in terms of commute length, with nearly 95 percent of residents spending less than 30 minutes on the road each day.
Iowa City, Iowa
Percentage of people enrolled in college:
75.7%
Literature fans probably already know about the prestigious University of Iowa Writers' Workshop, and that legacy in the language arts informs student life in the university's home base of Iowa City. This medium-sized college town in eastern Iowa is an official UNESCO City of Literature and features reading events with top-tier authors at the Prairie Lights bookshop.
Iowa City is home to one of the largest percentages of students among its local population, beating out all but three other schools on our list in that category. It also had our list's highest percentage of residents who walk, bike or take public transportation to work -- nearly 30 percent -- and the unemployment rate was under 4.5 percent in 2016.
"Our unique downtown hosts a variety of restaurants for every taste, and the live music scene is second to none. Whether it's our top tier teaching hospital, World Cup Cyclocross, Olympic wrestling, or our celebrated Iowa Writers' Workshop, our programming and events truly bring the world to Iowa." - Geoff Fruin, City Manager, Iowa City
Ann Arbor, Michigan
Percentage of people enrolled in college:
78.9%
Median Annual
Rent:
$13,356
The University of Michigan's flagship campus in Ann Arbor is one of the largest schools in any city on our list, featuring total enrollment of more than 46,000 students in 2017, so it stands to reason that its home city is well-equipped to serve students of all types. The city produces arts and culture events that range from plein air painting exhibitions and craft shows to annual festivals for books, blues music and experimental film.
Ann Arbor has one of the youngest overall populations among cities in our top 20, reporting that nearly 50 percent of residents are between the ages of 18 and 34. Students here can also attend Concordia University Ann Arbor, a Lutheran Christian academy of around 1,000 students.
Duluth, Minnesota
Percentage of people enrolled in college:
54.3%
Duluth is the largest American city that touches Lake Superior -- the largest freshwater lake in the western hemisphere -- and it makes good use of its location by helping provide nearly limitless outdoor recreation for its citizens. Duluth residents enjoy more than 120 parks, around 11,000 acres of green space, more than 80 miles of multi-use, bike-friendly trails and 150 miles of unpaved trails for hiking and sightseeing.
The two universities in Duluth are each about the same size -- Minnesota State's Lake Superior College and the University of Minnesota Duluth each educate approximately 11,000 total students each year. The generally short commute to work and school and a fourth-ranked low crime rate among our top 20 cities were the standout stats for this lakeside town.
Charleston, South Carolina
Percentage of people enrolled in college:
46.6%
Median Annual
Rent:
$11,532
As the oldest and largest city in South Carolina, Charleston has a longer history behind it than most other cities on our list. Although its population of nearly 140,000 may seem to disqualify it from the traditional category of small college towns, its low median rent and strong scores in the nightlife department suggest that it offers a little something for just about every type of student.
It may not be home to a huge public university like some other top college towns, but what Charleston lacks in magnitude it makes up in variety. Students here can choose to attend the College of Charleston, the Citadel or the Medical University of South Carolina, among others.
College Station, Texas
Percentage of people enrolled in college:
75.4%
This east-central Texas city of around 112,000 people sits near the center of the triangle formed by Houston, Dallas and San Antonio, putting students in reach of three very different large city experiences. It's also home to one of the lowest property tax rates in Texas, so students looking to put down roots after graduation have an additional incentive to check it out.
The college that gives College Station its name is Texas A&M University, as famous for the furious devotion of its Aggie football fans as it is for its elite science and engineering programs. The city had the third-youngest overall population on our rankings, and residents of just one other city on the list reported a shorter overall commute.
"Students from across the U.S. and from more than 120 countries live here, and most every amenity is here to serve them: good, cheap eats; a fun nightlife; beautiful, quiet parks; friendly full-time residents; plenty of 'old Ags' who return here to retire; and a built-in culture and tradition where Aggies take care of Aggies." - Jay G. Socol, Director, City of College Station Office of Public Communications
Eau Claire, Wisconsin
Percentage of people enrolled in college:
50.3%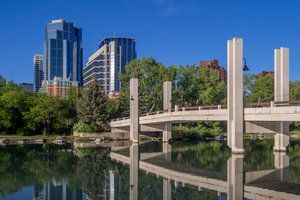 Short commutes and a low crime rate are two solid reasons to consider going to school in this quiet population center in northwestern Wisconsin, but they aren't the only ones. Just one other town on our list reported a higher number of bars and restaurants per 10,000 residents, meaning that you'll have plenty of options available when taking a night off from studying.
The Eau Claire campus of the University of Wisconsin had just shy of 11,000 students on its attendance rolls in 2017, which is a great size for a school in a town of around 68,000 residents. The city has also been recognized in the past for its economic growth, the civic engagement of its community and the work-life balance achieved by its residents.
Sandy Springs, Georgia
Percentage of people enrolled in college:
37.3%
Median Annual
Rent:
$12,588
Located just outside the top end of the Atlanta's Perimeter freeway loop, Sandy Springs posted one of the lowest housing cost figures of any city on our list. Just three other college towns in our top 20 reported a lower average percentage of median earnings being spent on rent. The crime rate here was also lower than the average of our top college towns.
The only college campuses in or bordering the Sandy Springs city limits are outposts of mostly for-profit nationally distributed universities. The Art Institutes, the University of Phoenix, Argosy University and American InterContinental University all maintain their Atlanta campuses in the Sandy Springs area.
Missoula, Montana
Percentage of people enrolled in college:
54.5%
Located at the meeting place of no fewer than five mountain valleys in Montana's majestic western reaches, Missoula is the state's second-largest city and home to the flagship campus of the University of Montana system.
Outdoor recreations like hiking, biking, swimming and kayaking are some of the best in the country, naturally, but that's not the whole story here. Missoula also took the No. 1 spot among our top 20 cities for its urban nightlife options per 10,000 residents.
The numbers show that Missoula residents tend to drive their personal motor vehicles around town less often than their counterparts in other small college towns across the country. The region is home to some of the more scenic highways in America, so that gas you save on your commute can be used to take in miles and miles of natural beauty.
Ames, Iowa
Percentage of people enrolled in college:
83.6%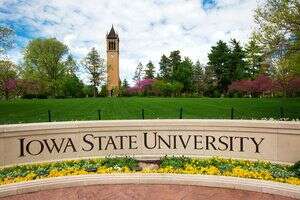 This central Iowa city has one of the highest ratios of college students to residents of any city on our list. The population of Ames sits at around 66,000 as of 2016, and Iowa State University educates around 36,000 students each year. If you like the feel of small college towns but also like being surrounded by peers and classmates, Ames might have the mix you're looking for.
It might be unsurprising, given that ratio, that Ames had both the highest percentage of residents aged 18-34 and the highest proportion of residents enrolled in school out of all 170+ schools we surveyed in this analysis. It's also one of the safest college towns on our list, reporting a lower crime rate than all other cities on our list but one.
"Ames residents enjoy a tremendous number of parks and natural areas, fantastic school districts, cultural offerings, recreation options, and Iowa State campus is beautiful. The city is safe, friendly, affordable, and continues to grow." - Susan Gwiasda, City of Ames Public Relations Officer
Lynchburg, Virginia
Percentage of people enrolled in college:
55.2%
The city limits of Lynchburg enclose nearly 50 square miles in central Virginia, but that doesn't mean that urban sprawl dominates the lifestyle here. Only three other cities on our list reported shorter average commutes than Lynchburg, which suggests a close-knit character to the community that can provide a great environment in which to live and study.
The largest of the four colleges in Lynchburg, Liberty University, is based in the Christian faith and has a total enrollment of more than 100,000 students, although the vast majority of them are enrolled in distance education programs. Main attractions in town include the Central Virginia Public Gardens and a downtown cultural fair on the first Friday of each month.
Provo, Utah
Percentage of people enrolled in college:
70.3%
Provo is another of the overall youngest cities on our list, boasting the second-highest percentage of residents between the ages of 18 and 34 and estimating that 70 percent of its population is enrolled in some form of undergraduate or graduate study. It also posted the third-lowest crime rate among our top 20 college towns despite a population of more than 115,000.
The flagship campus of Brigham Young University -- the largest private university by enrollment anywhere in America -- anchors Provo's education sector. Students who love outdoor recreation and sightseeing may want to consider this under-the-radar Utah city when choosing schools; Outside magazine recently ranked Provo No. 2 on its list of the best places to live.
Albany, New York
Percentage of people enrolled in college:
57.8%
New York's upstate capital is home to more four-year colleges than any other city on our list. Residents have access to two State University of New York (SUNY) campuses, two small private academies, the headquarters of a nationally renowned online institution and colleges of pharmacy, law and medicine.
It's also one of the more walkable cities in our top 20. More than 26 percent of residents walk, ride a bicycle or take public transit to work.
Albany has one of the more prolific nightlife scenes among our top college towns, thanks to a portfolio of bars and restaurants that only three other cities on our list could match. Fans of beer, whiskey and cider can walk the Capital Craft Beverage Trail, a "drinking tour" of the area's top local producers.
Lafayette, Louisiana
Percentage of people enrolled in college:
37.7%
If you're looking to save money on your college education, don't overlook Lafayette as a possible destination. Residents here reported the second-lowest average rent expense of any city in our top 20, and the tuition cost for in-state students at the Lafayette campus of the University of Louisiana came in under the nationwide average for four-year schools.
It's also one of the larger college towns on our list, with a population over 127,000. You're likely to graduate into a solid job market, also -- the employment rate was less than 4 percent in 2016.
Lafayette also takes pride in its appearance on an enviable national rankings list. The National Bureau of Economic Research recently awarded the southern Louisiana city the No. 3 spot on its list of the happiest cities in America.
Davis, California
Percentage of people enrolled in college:
72.9%
Median Annual
Rent:
$15,300
The lone California town in our top 20 has a lot of factors in its favor. It's a haven for alternative transportation users, for one, reporting the third-highest percentage of pedestrians, cyclists and mass transit users among the commuting population. It's also got the sixth-most college students per capita of all the schools on our list.
Davis is another town where students at the local university -- the University of California, Davis -- number more than half of the town's total population. Just over 68,000 residents live in Davis proper, and more than 35,000 students attend UC Davis each year.
City administrators also understand the value of greenspace and natural features to the quality of life in a city. Residents can stroll, play and lounge in nearly 500 acres of greenbelts and parkland throughout the city.
Methodology
We ranked 173 U.S. cities that have populations under 150,000 and are home to at least one 4-year college or university, based on 2016 data from the U.S. Census and the National Center for Education Statistics. Colleges whose courses were offered exclusively online were excluded from the list. Each city was ranked on a 25-point scale on the following seven factors:
Percentage of the population aged 18-34, American Community Survey, 2016
Percentage of Population Enrolled in College or Graduate School, American Community Survey, 2016
Median annual rent as a percentage of median annual earnings, American Community Survey, 2016
City unemployment rate, American Community Survey, 2016
Percentage of commuters whose average travel time is less than 30 minutes, American Community Survey, 2016
Percent of workers who bike, walk, or use public transportation, American Community Survey, 2016
Crime Rate Per 100,000, Uniform Crime Reporting, 2015
Article Sources
Article Sources
City pages, accessed August 27-29, 2018: About Champaign, City of Champaign, http://champaignil.gov/about/about-champaign/; Urban Forestry, City of Fayetteville, Arkansas, http://www.fayetteville-ar.gov/339/Urban-Forestry; About Us, City of Oshkosh, http://www.ci.oshkosh.wi.us/about_us.asp; About Fargo, The City of Fargo, http://fargond.gov/explore/about-fargo; About Us, Downtown Fargo Community Partnership, http://downtownfargo.com/about-us/; Iowa City, https://www.icgov.org/; The City of Ann Arbor, https://www.a2gov.org/Pages/default.aspx; Local Area Events & Things To Do, Destination Ann Arbor, https://www.visitannarbor.org/splash/events; Parks & Recreation, City of Duluth, Minnesota, http://www.duluthmn.gov/parks/; History of City, Charleston, South Carolina, http://www.charleston-sc.gov/index.aspx?nid=110; About College Station, City of College Station, http://cstx.gov/index.aspx?page=2009; Eau Claire Awards and Recognitions, City of Eau Claire, Wisconsin, http://www.ci.eau-claire.wi.us/about-us/eau-claire-awards-and-recognitions; Sandy Springs, GA, http://www.sandyspringsga.gov/; About Us, Missoula, Montana, https://www.ci.missoula.mt.us/158/About-Us; About Ames, City of Ames, Iowa, https://www.cityofames.org/about-ames/about-ames; About Lynchburg, City of Lynchburg, Virginia, http://www.lynchburgva.gov/about-lynchburg; Central VA Public Gardens, The City of Lynchburg, Virginia, http://www.lynchburgva.gov/central-va-public-gardens; First Fridays Lynchburg, http://www.firstfridayslynchburg.org/; Provo Rankings, City of Provo, Utah, https://www.provo.org/about-us/provo-rankings; Provo #2 for Greatest Place to Live in America!, Provo Mayor John Curtis, http://provomayor.com/2014/08/13/provo-2-greatest-place-live-america/; Capital Craft Beverage Trail, Albany County Convention & Visitors Bureau, https://www.albany.org/restaurants/craft-beverage-trail/; Rankings, Lafayette Economic Development Authority, http://lafayette.org/site353.php; Parks and Greenbelts, City of Davis, California, https://cityofdavis.org/city-hall/parks-and-community-services/parks-and-open-space;
School pages, accessed August 27-29, 2018: About Stephens, Stephens College, https://www.stephens.edu/about-stephens/; About, Illinois State University, https://illinoisstate.edu/about/; Fast Facts, University of Wisconsin Oshkosh, https://uwosh.edu/about-uw-oshkosh/fast-facts/; About, North Dakota State University, https://www.ndsu.edu/about; About, University of Mary, https://www.umary.edu/about/; About the Workshop, The University of Iowa, https://writersworkshop.uiowa.edu/about/about-workshop; Iowa City: Little town, big on writing, The University of Iowa, https://uiowa.edu/stories/iowa-city-little-town-big-writing; Facts & Figures, University of Michigan, https://www.umich.edu/facts-figures/; About, Concordia University Ann Arbor, https://www.cuaa.edu/about/index.html; About UMD, University of Minnesota Duluth, http://d.umn.edu/about-umd; Lake Superior Facts, University of Missouri-Kansas City, http://law2.umkc.edu/faculty/projects/FTrials/superior/superiorfacts.html; Annual Report, Lake Superior College, https://www.lsc.edu/wp-content/uploads/LSC-Annual-Report-16-17.pdf; About UW-Eau Claire, University of Wisconsin-Eau Claire, https://www.uwec.edu/about/; Argosy University, Atlanta, https://www.argosy.edu/locations/Atlanta; AIU Atlanta, American InterContinental University, https://www.aiuniv.edu/campus-locations/Atlanta; The Art Institute of Atlanta, https://www.artinstitutes.edu/Atlanta; Atlanta, Georgia Campus, University of Phoenix, https://www.phoenix.edu/campus-locations/ga/atlanta-campus.html; About, the University of Montana, http://www.umt.edu/about/; About Iowa State, Iowa State University, https://web.iastate.edu/about/; University of Lynchburg, https://www.lynchburg.edu/; Quick Facts, Liberty University http://www.liberty.edu/aboutliberty/index.cfm?PID=6925; About, Brigham Young University, https://www.byu.edu/about; About UAlbany, SUNY University at Albany, https://www.albany.edu/about-ualbany; Fast Facts, The Sage Colleges, https://www.sage.edu/about/fast-facts/; Facts & Figures, Maria College, https://mariacollege.edu/about-maria/facts-figures; Fast Facts, Excelsior College, https://www.excelsior.edu/about/fast-facts; About, The College of Saint Rose, https://www.strose.edu/about/; Albany Medical Center, http://www.amc.edu/; Albany Law School, http://www.albanylaw.edu/; Albany College of Pharmacy and Health Sciences, https://www.acphs.edu/; Estimated Costs, University of Louisiana at Lafayette, https://financialaid.louisiana.edu/content/costs; About UC Davis, University of California, Davis, https://www.ucdavis.edu/about
About NWA Trails, Northwest Arkansas Trails, accessed August 27, 2018, http://www.nwatrails.org/about/
What is Tree City USA?, The Arbor Day Foundation, accessed August 27, 2018, https://www.arborday.org/programs/treeCityUSA/about.cfm;
Cities Near Lake Superior, Michigan, US, Lakes Online, accessed August 27, 2018, http://superior.uslakes.info/Cities/;
Colleges and Universities List, State of South Carolina, accessed August 27, 2018, https://sc.gov/EducationAndEmployment/Pages/CollegesUniversitiesList.aspx
College Navigator, National Center for Education Statistics, accessed August 28, 2018, https://nces.ed.gov/collegenavigator/
"Table 8 - Offenses Known to Law Enforcement by State by City," Federal Bureau of Investigation, Uniform Crime Reporting, https://ucr.fbi.gov/
FactFinder, U.S. Census, accessed August 2018, http://www.census.gov/acs/www/data/data-tables-and-tools/index.php
X